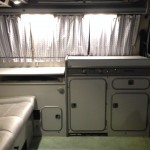 I've long been in search of better lighting in the Vanagon. I've still yet to add an IKEA puck light LEDs to the cockpit area, but I was nevertheless able to make two more light mods that really brightened things up. First, thanks to fellow vanagonaut Harold Teer, I acquired a second overhead galley light and mounted it above the stove. The improvement is incredible; gone are the days of cooking in the dark.
The second modification was to upgrade the bulbs yet again since LEDs have come a long way since I first installed them in Olly seven years ago. With new, brighter and warmer LEDs from superbrightleds.com, the interior becomes much less clinical, making it far cozier. The new warm LEDs also match the IKEA pucks better, giving an overall more uniform appearance when all the lights are on. One installation note: I did have to slightly bend the prongs in the galley lighting to accommodate the oversized festoons, but that was easily accomplished with a pair of needle-nose pliers. This could be avoided by using smaller LEDs than the 6451's I used, but some light output would be sacrificed.
As a bonus, the whole thing looks very vanagonish, as if the light fixture was always there.