Edit: This post originally appeared on my Blogspot blog.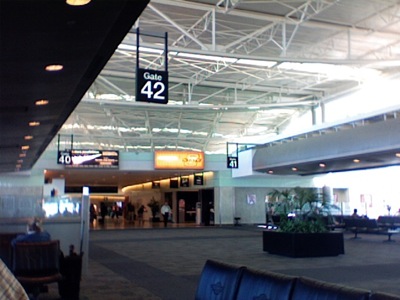 (Houston, Texas) I'm sitting here in Hobby Airport waiting for my 1:00 departure, and apparently whoever is in charge of the sound system has put on a John Denver playlist. I'm not sure what is scarier: that his songs have been played continuously for the past hour, or that I have recognized all of them. Not that I have anything against John Denver. In small doses.
I'm on my way to Lincoln to see the family. Dad's not doing too well, so I've made arrangements at the school to go up for a visit. I hate having to miss classes, but it's not because of the kids. Honestly, what I hate are all the damn lesson plans. My mom pointed out it would be faster just to teach the classes myself.
So I'm feeling remarkably well considering the circumstances of this trip, that I only got four hours of sleep last night, and that I'm sitting in an airport with CNN blaring on the monitors in clear discordance with the Denver-fest. (Personally, I'm rooting for John). Part of the reason for my easiness is that the airport has done little to offend me today. Check-in and the security screening weren't onerous today, which are usually the worst part of air travel. Here at the gate (again, with the exception of CNN) things are pretty peaceful as well. Conspicuously absent from my travel experience are the hordes of screaming children. I suppose that's one of the benefits of mid-week travel.
One other point of note is a sign of our changing times: here in the terminal, amidst the usual rows of uncomfortable benches, I'm sitting at a courtesy laptop bar. It's just a smallish table with built-in electrical outlets and stools, but it's really smart. Internet access isn't included, but it's nice not to have to jockey for juice with the business folks looking to charge their Blackberrys and the college students with their Apples. Even the guy with the electrical banana looks happy.