I love BOSS compact pedals. Of all the various guitar effects, they are my favorites. There are detractors to the line, of course, but I think BOSS stompboxes are brilliant.
To start with, they are masterpieces of industrial design, ingeniously solving so many problems that all guitar pedals face. The casings are robust. The large, raised footbed makes them easy to operate without accidentally hitting the control knobs with an errant step. The battery is housed in a separate compartment which is opened via a single thumbscrew. Simple bold colors make the pedals easily identifiable on a darkened stage, and a consistent form factor makes them easily interchangeable.
Say what you will about tone suck, but the electronics inside are also remarkable. While the pedals may not utilize the highest grade of electronic components or deliver sound nuances capable of satisfying every artist, BOSS stompboxes find a balance between affordability and quality output that work for most people, including many professional musicians. And if it's good enough for the likes of David Gilmour or Eric Clapton, it's probably good enough for me.
Recently, when I decided I wanted to add another overdrive effect to my pedalboard, I knew that what I wanted was something Tube Screamer flavored. I'm not going to enter into the debate about whether the vintage ones are better or whatever. Most people can't tell the difference between all the different varieties, and I've got better things to do than worry whether an effect gets me the precise tone color I desire. Among those "better" things? Build the effect myself.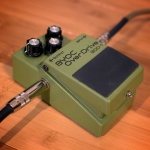 So I looked at the kits offered by BYOC, and settled on their Classic Overdrive. Rather than put it into a standard case, however, I decided to mod the whole thing slightly to fit it into a BOSS enclosure from a dead pedal that I found on eBay. The biggest problem was getting the footswitch to fit, for which I had to make a modified latch for the battery/switch cover plate. Other components, such as the jacks and the AC adapter were taken from the broken pedal because they fit into the case better. I painted the whole thing, and using bake-on waterslide transfer decals was able to emulate the trademark BOSS font and appearance. After a few coats of polyurethane, the thing is ready to play. The effect works very well, and was easy to assemble thanks to the kit. I think I'm going to be very happy with it as a second OD on my board, and I can foresee experimenting with other pedal builds in the future.
Here's a soundclip.
Here's some pictures of the process.