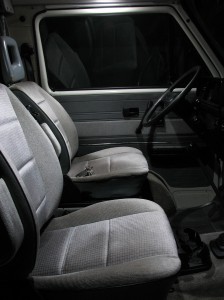 The single driver-side dome light in the Vanagon tends to leave one in the dark, particularly when camping.  I wanted a passenger-side light that retained the style of the original, and which could be controlled by the doors or switched on and off independently of the driver-side light. Fortunately, dome lights are cheap and easily available, and they're easily installed.
I also wanted to replace the interior lights (both fore and aft) with LED lights which would generate less heat and consume less power when running on the battery.  Two drawbacks to using LEDs is that they tend to have less light output (owing largely to their directional nature), and the light they generate tends to be colder than monofilament bulbs.  I felt the "cool" nature of the lighting could be offset by having multiple light sources.
This project wasn't difficult, but it was time consuming.  Removing the headliner (Bentley 75.7) isn't fun, as it requires the removal of both the left (Bentley 76.4) and right (Bentley 76.5)curtain rails on late-model vans.  I recommend following the Bentley procedures, as they take the guesswork out of what you need to disconnect.  I would have saved myself considerable time had I done so.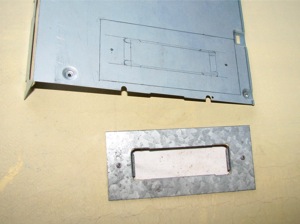 After removing the headliner, I had to construct a metal bracket to hold the light, and cut a hole in the headliner.  To make the bracket, I salvaged some sheet metal from an old computer CD-ROM case.  It was a slightly lighter gauge metal, but was rigid enough to work.  Measurements were taken from the existing bracket, easily visible with the headliner removed.
I cut the metal using an angle grinder for the outside and a Dremel tool for the inside.  I shaped the bracket using pliers and a ball-peen hammer.  When all done, I tested the fit of the dome light fixture before riveting it into the headliner.
…more to come…